Sarajevo: Shelved Memories (2010)
12.00 killed, 50.000 wounded, 2 men testify
Watch the FULL film

Many thanks to Sky News for providing us with invaluable footage of Sarajevo during the siege. Without their support this film would not have been possible. Due to the nature of the footage, Sky News has asked that anyone interested in our work should request access first. Please do so in the fields provided below and we will send you a link where you will have instant access.
Sarajevo: Shelved Memories is a documemory about the experiences of two veterans who survived the siege of Sarajevo (1992-1995). Vladan is a Bosnian volunteer forced to fight his neighbours, while Malcolm is a former UN soldier stationed in Sarajevo. The trauma both men experienced draws attention to how war memories illustrate how contradictory people's emotions can become during heightened moments of human conflict. Both Vladan and Malcolm experienced emotions jumping from apathy to guilt, hatred to empathy, resolve to disillusionment. The style of the film seeks to communicate this constant emotional tension, while making the fragmented nature of their traumatic memories part of the visual construction of their stories. Theatrical depictions of their experiences as well as their actual accounts are also brought into a dialogue with archive footage from the siege. In this way, Sarajevo: Shelved Memories draws specific attention to the nature of memory and human emotion confronted by the trauma of Europe's most recent war.
Genre: Narrative Film (Documemory)
Estimated Duration: 53 minutes
Topic: Siege of Sarajevo 1992-1995
In Association with
g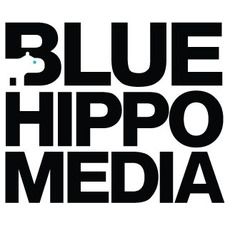 We produced the film with Blue Hippo Media, a Birmingham based production company known for their work in both documentary and narrative films. Blue Hippo Media is an internationally recognised film company and has won several awards for their work. Over the past few years they have produced films on five continents creating films with heart and purpose.
g 
g

Sarajevo: Shelved Memories was part of a practice-based doctoral project at the University of Reading. The Department of Film, Theatre & Television presented the ideal and most unique setting for the research as it is a department specialising in the interrelationship between practical work and theory. The support that staff gave during the development and production of the film allowed the project to experiment with film form, which directly led to the creation of the concept of 'documemory'. You can read the entire manuscript of the thesis by clicking the link provided below.
Cast
Marko Cindric (Vladan)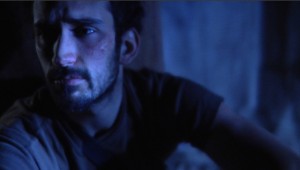 Character: Vladan fought in the Bosnian army as a volunteer when his hometown was put under siege by Serbian forces. He has no real religious orientation, but identifies with the communists who are fighting for Sarajevo's freedom. However, the years of fighting and the things he has seen are impacting on his emotional state and overall commitment. He is a tired man, who becomes increasingly pessimistic about the future and his reasons for still remaining in Sarajevo.
Actor Statement: I always wanted to be involved in films, ever since I remember and when I got invited for the audition for Reina's film I was delighted and when she offered me the part I couldn't believe it. Working with Reina was amazing, she gave me the space and opportunity to prepare for the part and the film like I wanted to, and how it's supposed to be. She gave me the necessary funds and time to arrive on set ready and we would talk about the process, script and then we would shoot. Story was very close to me and Reina knew that and she approached the story with great detail and passion and I think you can see that when you watch the film. It was a great team of people working together with Reina as our captain and I wish we could all crossroads in the future and make something special again.
David Stephenson (Malcolm)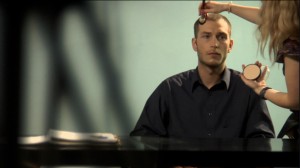 Character: Malcolm went to Bosnia five times in total – first as part of the UN task force, then as part of the NATO peace-keeping force. Being very sensitive by nature, he is initially very positive about his role in the Bosnian conflict. However, his time in Sarajevo quickly brings him to a different conclusion – a conclusion that completely desensitises him to the reality of the situation. Years later, he reflects on his actions and his feelings towards the conflict.
Lee Garrett (JP)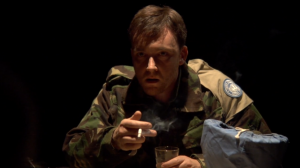 Character: JP is Malcolm's best friend during their Bosnian campaign. Unlike Malcolm, he is a man of action and therefore he is also more open and critical about their role as part of the UN force. He becomes very bitter about the fact that they are not allowed to intervene – to the extent that the whole situation completely alienates him.
Henry Douthwaite (unknown Bosnian father)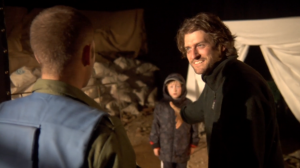 Character: This real life yet unidentified individual is a very kind, but desperate man. The siege has reduced him to beg for supplies from Malcolm and JP. Being a proud man himself, he finds this a deeply degrading thing for him to do. Out of sheer desperation for his family though, he does it despite his reluctance.
Also starring:
Lachlan MacCall, Jeremy Drakes, Lieve Carchon, Kristina Dargelyte, Robert Cohen, Lloyd Morris, Robin Weston.
Crew
Cinematography
David Cawley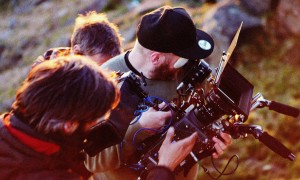 David is a cinematographer with a vast experience in his craft. He has worked far and wide across 6 continents shooting Films, TV, Documentary, Commercials and Promos. His real passions are drama and documentary.
In 2008 he shot the documentary Andy Parkin: a Life in Adaptation winning best film at SHAFF 2009. Summer 2009 brought about his first collaboration with director Reina-Marie Loader for the film Sarajevo: Shelved Memories, which explored the testimonies of the people caught up in the conflict in Sarajevo and the damage of war on the human spirit. In the winter of 2009, David went on to shoot the second unit on the feature film The Insatiable Moon in New Zealand. This film later had an international cinema release and gained multiple awards. In 2010, he shot his first feature How to Become a Criminal Mastermind and has since shot several short films and promos. This included a commercial for PlayStation VITA, which launched the console at its 2011 world premiere. In 2012, David was heavily involved in the critically acclaimed Last Shop Standing, which has toured the UK, playing at record shops and art house cinemas across the world. The documentary has additionally picked up enthusiastic reviews by recognised sources such as The Guardian. It has also received five stars in Q Magazine. David's client list includes names such as Sony PlayStation, Virgin Music and National Geographic.
Music
Eugene Skeef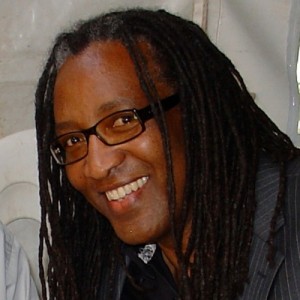 Eugene is a South African percussionist, composer, poet, educationalist and animator living in London since 1980. He also works in conflict resolution, acts as a consultant on cultural development, teaches creative leadership and is a broadcaster. In 2003 he founded Umoya Creations, a charity set up to facilitate this international work. Eugene's roots are firmly established in his cultural work with Steve Biko, the late South African civil rights leader. As a young activist he co-led a nationwide literacy campaign teaching in schools, colleges and communities across apartheid South Africa.
Eugene is at the forefront of the contemporary music scene, collaborating with innovative artists like Anthony Tidd, Brian Eno, Bheki Mseleku, Tunde Jegede and Eddie Parker. He has brought his extensive experience, as an advisor, to the Contemporary Music Network. He has also been instrumental in developing the education programmes of some of the major classical orchestras in the United Kingdom, including the London Philharmonic Orchestra (LOP), the London Sinfonietta and the Royal Scottish National Orchestra.
Nominations

Learning on Screen Awards 2011  (British Universities Film & Video Council), Best Film over 50 minutes (Swansea Bay Film Festival 2010), Documentary Europe (Heart of England International Film Festival 2010)
Festivals
Swansea Bay Film Festival (May 2010), The Heart of England International Film Festival (August 2010), The International Film Festival of Ireland (September 2010), Sheffield Doc/Fest Videotheque (November 2010)
Conferences
'Visible Evidence' (August 2010), 'Acting with Facts' (September 2010), 'Documentary Now!' (January 2011).
Documemory
Sarajevo: Shelved Memories is a 'documemory' – a form of narrative filmmaking that can be considered as a subgenre of the now well-known genre, docudrama. Like docudrama, the documemory film essentially entails the narrative telling of real events, though in many respects uses more experimental methods to do so.
A particular dimension of the documemory film is its focus on the ways in which memories of real events can be usefully and legitimately recreated in order to reflect on the impact certain events have on people. It is a known fact that memories are fragmented and prone to change over time. This is even more so if the memories in question are of traumatic events. A documemory seeks to investigate this particular quality of memories so as to not only investigate the historical reality of events, but also to consider the psychological reality behind those memories.
While Sarajevo: Shelved Memories is the first film specifically described as a documemory (coined by Reina-Marie Loader), there are many well established films that also demonstrate the principles of the documemory genre – Waltz with Bashir and Lebanon being well-known examples.
Sarajevo: Shelved Memories required the construction of five sets. Here a few images of the development of some of them.
The building of Vladan's steps:
The concept of the steps were inspired by a destroyed set of stairs found in Sarajevo during a research trip in 2009. As we had to use the same space for a different set on the same day, we needed to devise a concept that would allow us to easily build and break the stairs up again. Iman Khonji came up with this simple idea to give the impression of a ruined staircase.
  

Sections of Vladan's Home:
Approximately 300 bricks were used in this set. The biggest challenge for its construction was designing a set that could be taken down and built up again within a couple of hours. The set is inspired by an actual dilapidated house found in Sarajevo during a research trip in 2009.
 
Sections of Malcolm's HQ in Sarajevo:
Here a few shots the set representing the United Nations' headquarters in Sarajevo inspired by photographs provided by real individuals stationed in Bosnia. The biggest challenge of this set was to find enough rubble to scatter across the studio space.
g

 For more on the design of the sets, feel free to read the downloadable document below.
Sarajevo: Shelved Memories is set during the siege of Sarajevo – the longest siege of a capital in modern history. However, the film does not seek to give a historical account of the siege. It rather seeks to investigate the strange and disjointed nature of war experience by looking at the siege through the eyes of people directly affected by it. As such, the issue of the film revolves around how people in war (soldiers and civilians) cope with the effects of trauma at the moment it is happening as well as how they deal with the stress it still causes years later.
The message of Sarajevo: Shelved Memories draws attention to the dehumanising nature of war – regardless of where and for which reasons it is being fought. Both the stories of Malcolm and Vladan illustrate this dimension in that their personal experiences have directly led to their emotional detachment from the situations they were in. They have never met, they are from different cultures, they speak different languages and they are in Sarajevo for very different reasons. Yet, both of their personalities are affected by their experience in such a way that it leaves them permanently altered in similar ways.
This leads to the consideration that the actions of individuals confronted by war are fraught with extremely complicated emotions. While many actions are not condoned, the film draws attention to how such actions can be explained by the nature of war and how it could make the most sensitive and ethical of people act in a way that contradicts their own moral standards.
In order to think fruitfully about the nature of war, we therefore also have to consider the subjective experience of war.
Interview: Henry Douthwaite
Henry Douthwaite being interviewed about his experiences and thoughts on the film Sarajevo: Shelved Memories.
Filmed and Interviewed by
Jim Lumsden and Dan Harding
Interview: David Stephenson and Lee Garret
David Stephenson and Lee Garret take some time out between takes to talk about their experiences and thoughts while working on Sarajevo: Shelved Memories.
Filmed and Interviewed by
Jim Lumsden and Dan Harding
A massive thank you for the people in this video, who slaved away during set changes – allowing us to finish a 54 minute film in 4 days!!
Thanks to: Iman Khonji, Jim Lumsden, Dan Harding, Matt Taylor, Lance Moraitis-Jones, Rebecca Hillman, Katey Bell and Joe Taylor.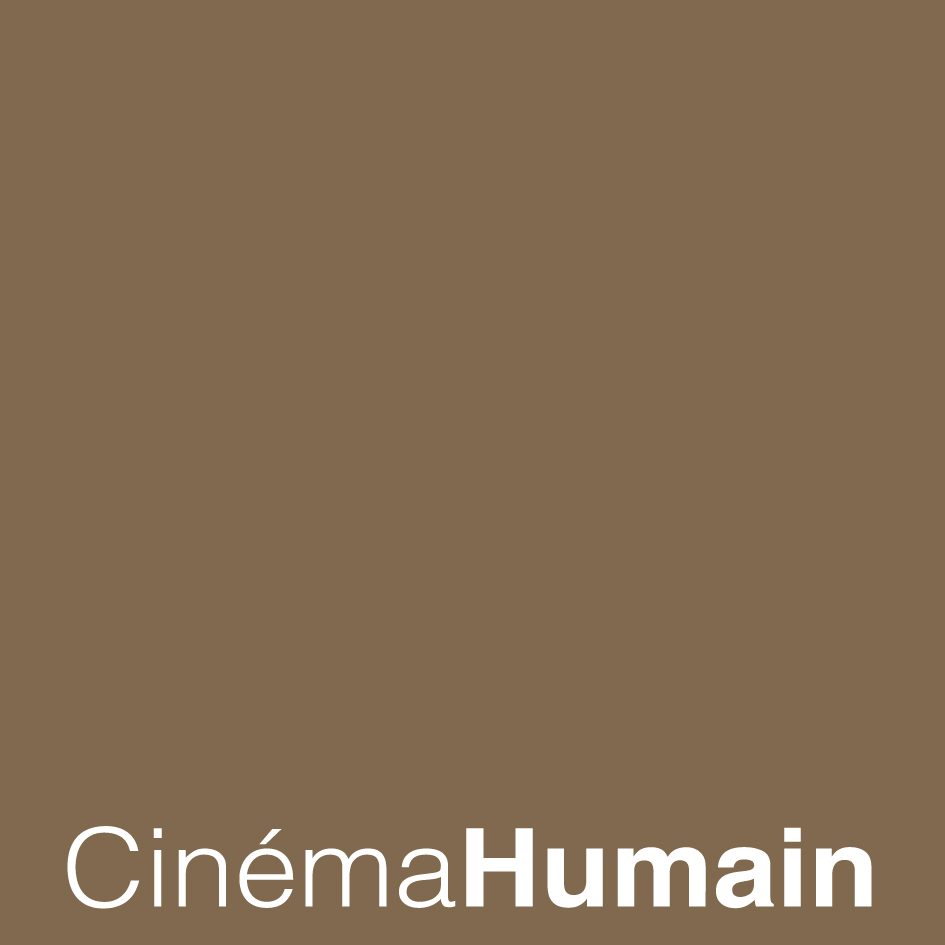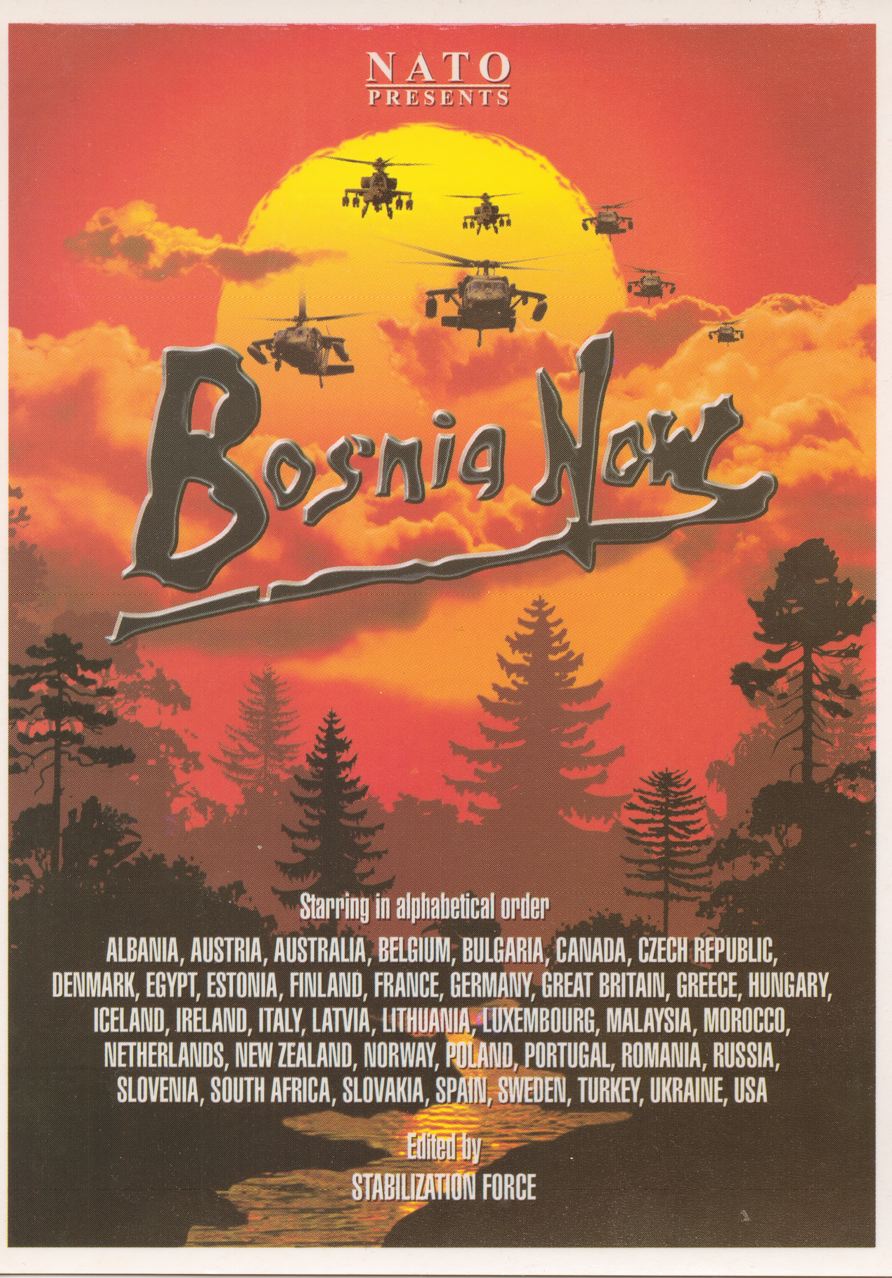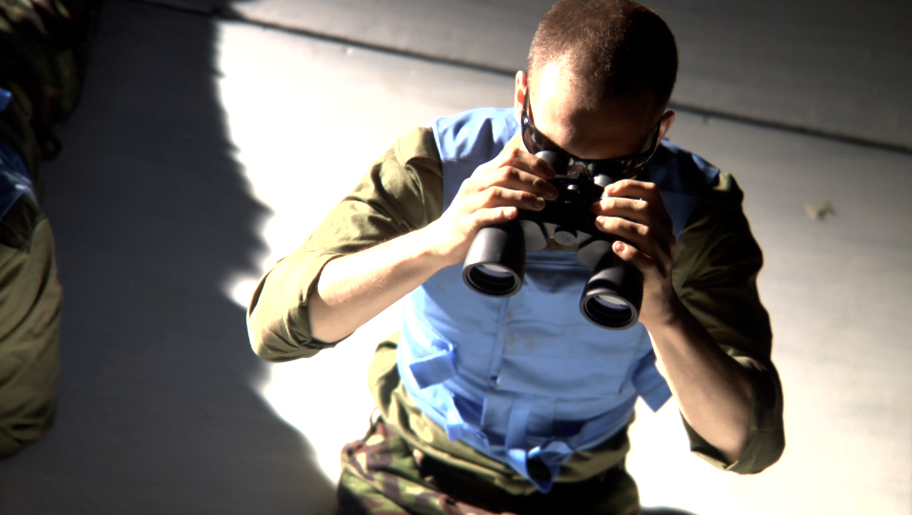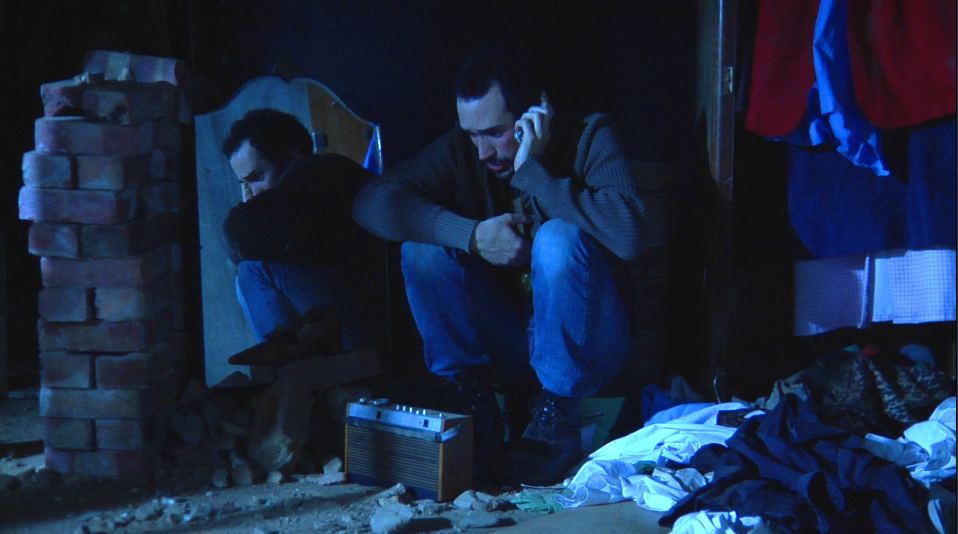 WHAT DOES IT TAKE TO BE A HUMAN RIGHTS FILMMAKER?